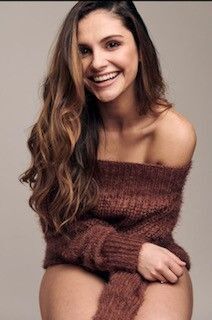 Courtney Crain
Courtney grew up in Monroe, Louisiana and began dancing at the age of 2 with Missy Crain Dance Studios. Even at that young age, she and everyone around her knew dance was her passion. She started to train in more styles with longer days as she got older, but the passion and drive continued. Courtney began competing with the Missy Crain Performing Company at the age of 7 and traveled across the US attending many different competitions. In 2004 her mother, Missy Crain, founded Louisiana Delta Ballet.  Courtney was only 9 years old at the time and was one of the first apprentice members of the company. Louisiana Delta Ballet led her to numerous performance opportunities including original ballets during the Christmas season, Spring ballets, fundraisers, and attending Regional Dance America Festivals to perform across the U.S. and Canada.  Courtney received numerous scholarships and was awarded the "Emerging Choreographer" award by Regional Dance America in 2016.
 At the age of 15, Courtney became an assistant and company member for LA Dance Magic national convention based out of Los Angeles, California. LADM gave her the opportunity to travel the US and assist world renowned teachers and choreographers all while continuing to train and perform with Missy Crain Dance Studios and Louisiana Delta Ballet.
     Following high school, Courtney attended the University of Louisiana at Monroe where she graduated in 3 years with a bachelor's degree in marketing. During her college years, she began to teach at Missy Crain Dance Studios and continued to perform with Louisiana Delta Ballet as a principal dancer. Teaching was always something she had a passion for in addition to performing.  Courtney has now been sharing her love for dance for almost ten years with students all around the United States.
      After graduating college, Courtney decided to make a huge life and career decision. She packed up all her things and moved to New York City. This was always something that was in the back of her mind, but after a lot of thinking and praying, she knew it was something she had to do to make her dreams come true. The first few years of living in the big city consisted of a lot of training in different classes, teaching at different studios to make ends meet, auditioning for every job possible, and making as many connections as she could. All of these things led her to different jobs, performances, videos, and great people. None of this would have been possible without the drive she acquired as a young child. Finally, after many years of hard work and determination, Courtney got the call she had been waiting for.  Courtney became a Radio City Rockette. This was her dream and it took everything she had to make it happen.  Courtney is now going into her second season with the Rockettes and looks forward to many more years of dancing and teaching…doing what she loves!
A Note from Courtney:      
 "Without the love and support from my Missy Crain Dance Studios and Louisiana Delta Ballet family, I know I would not be the dancer and woman I am today. Dance is something very special and it teaches so much more than people know. I know life lessons and skills that I will carry with me forever and I have dance to thank for that. I love my dance family and they will always be my home no matter how far I go. My dreams came true because of you" - Courtney